26 Jun

6 Cuban dishes you can get in Charleston that are more than just rice and beans
Tomas Prado glides garlic butter across the golden bread before lowering the plancha press onto the Cubano, squeezing the sandwich flat, crisping up the exterior and melding the roast pork, ham, cheese, mustard and pickles into a perfect bite. A Cuban sandwich done right is a special thing, and Tomas and his wife, Lynda, take care with every single one they serve at Spanglish, a Cuban-American kitchen in Workshop, a downtown food hall that encourages motivated restaurateurs to try out their concept.
The name speaks to their heritage as first-generation Cuban-Americans raised in Miami. At Spanglish, they proffer a menu full of "dishes that mean something," says Lynda. For instance, the fricase de pollo is what you would find cooking on her mother's stove any given Tuesday. "It's rustic and delicious," she says.
Her husband makes his fricase de pollo with bone-in, skin-on chicken thighs. As with most Cuban dishes, this one starts with a sofrito base. "Just like New Orleans has its 'holy trinity' base (celery, carrots, onions), sofrito is the Caribbean's holy trinity with peppers, garlic, onion and Cuban oregano," says Tomas. To the sofrito, he adds fresh and canned San Marzano tomatoes and then simmers the picked chicken until it has soaked up all the flavor. It comes served on a bed of Carolina Gold rice, which also is used in the arroz congri. "It's basically Hoppin' John," says Tomas.
While black beans and rice is known as moros y cristianos and is considered the national dish of Cuba, congri is made with red beans. At Spanglish, the Prados use Sea Island red peas and Carolina Gold rice, fusing their heritage with local ingredients.
Down on Calhoun Street at Cuban Gypsy Pantry, Will Vivas takes his own approach to Cuban food. "Every chef is gonna do different things," he says. "You have to adapt the cuisine to the clientele you have. I'm not going to serve cow brains or cow testicles here. People aren't going to go for it."
What they do go for is a wide range of classic Cuban dishes. The menu feels expansive at this tiny restaurant, which started as a food truck and is now expanding into two brick-and-mortar restaurants. Vivas and his wife just signed a lease on a second location in North Charleston. Vivas says he makes everything from scratch, including his empanadas which are crispy hand pies filled with savory beef, chicken or pork.
His pressed Cubano is delicious, too, and a worthy example of the form. While the ropa vieja was a tasty pile of shredded beef served with yellow rice and flavorful black beans, the chicken saltado was hard to beat. The sliced chicken breast is cooked in a broth made from tomatoes, onions and butter. French fries are piled on top of the chicken and drizzled with a garlicky green sauce that is a cilantro sauce with so much garlic it tingles your tongue (and stays with you for a while).
Cuban food, like that found in most of Latin America and the Caribbean, fuses Spanish influence with West African traditions. "It's not spicy at all," points out Lynda Prado. "It's really bold flavors, though."
Mari Marzan echoes that. The owner and operator of Sabor CubaRican food truck with her husband, Ammiel, has mashed up Cuban with Puerto Rican fare, but that's not such a stretch. Puerto Rico's cuisine is very similar to Cuba's with many similar dishes, named differently.
For instance, in Cuba a dish made with a base of mashed plantains is called machequillo or fufu, while in Puerto Rico it's called mofongo. Mari (the Cuban) makes mofongo by smashing green plantains, mixing in bacon and spices. She forms them into balls and puts pulled pork on top. She sticks with the mofongo name in a nod to her Puerto Rican husband who complains that there are more Cuban dishes than Puerto Rican on the truck. But that's probably because Mari is an enthusiastic cook who works full time on the truck.
Sabor (which means flavor) first took to the streets two years ago, and the Marzans love it. "We have a really good time with the truck," says Mari, who is the primary cook. She makes fresh bread every day in order to get it right. Pan Cubano (Cuban bread) is made using lard, which provides a flaky crust and also means it can't be served day-old.
Over at Spanglish, Tomas Prado takes issue with using lard for sandwich bread and says they have bread made to their specifications at a bakery in West Ashley. Will Vivas takes a different approach, ordering frozen Cuban bread and baking it daily. "We don't have a lot of room to make it from scratch," he says.
In South Florida, Cuban sandwiches are so ubiquitous you can find them at the corner convenience store and have them pressed flat on a plancha to go, but around here you can find excellent variations at Spanglish, Cuban Gypsy Pantry and Sabor CubaRican Food Truck. I've had a good one at Cortadito's on Meeting Street, but that restaurant is for sale and might not be around for much longer. So if that's your favorite version, better get there quick. You can also grab one at the airport on your way out of town at the airport's new food cart Mama's Cuban Cafe.
                                                                                                                        Porkito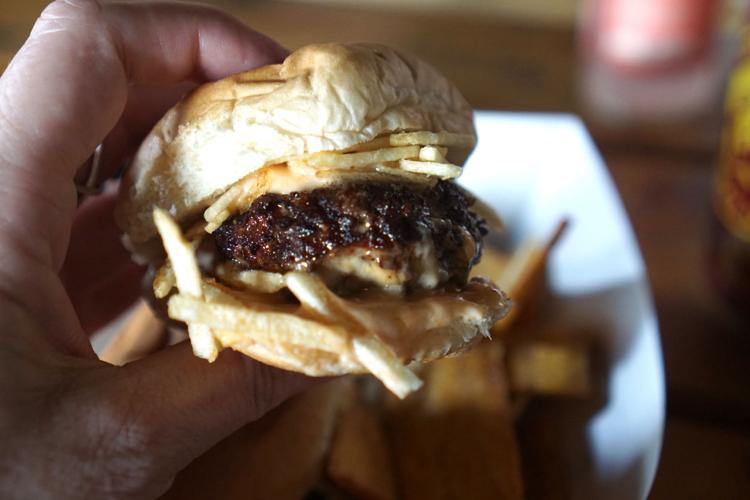 At Sabor, they have created signature porkito sliders built upon spicy ground pork that's made into a patty, grilled and then topped with a special sauce and sprinkled with potato sticks. It's food truck fare at its best.
                                                                                                                    Plantains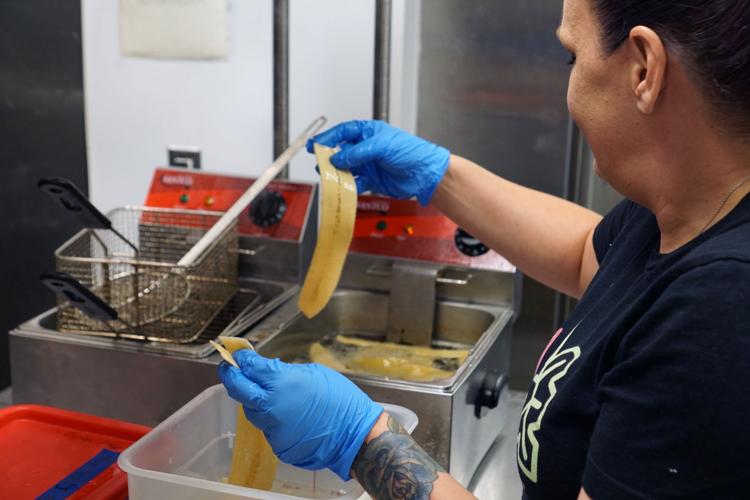 Plantains are a foundation of Cuban food. They're like a banana, but less sweet and more starchy and are used in multiple forms. You'll find them used in various ways.
A tostone (Puerto Rico) or chichino (Cuba) is a plantain that's sliced and fried once, then smashed flat and fried again. At Sabor, Mari forms her tostone into a cup shape and then fills it shredded pork. At Cuban Gypsy Pantry most dishes come with a side of fried plantains, which looked like chunks of sliced bananas but taste more like a sweeter potato. You'll also find maraquitas at Spanglish and Sabor. The plantains are thinly sliced lengthwise and fried up crispy to serve alongside sandwiches like a sweet potato chip.             
                        Sabor specialties include croquetas, tostone relleno, yuquitas (yuca fries) and empanada.
Cassava root is a long waxy root that looks a bit like horseradish. It is prepared first by boiling or steaming until it is mostly cooked. Then it is battered and fried to order. They taste like a soft, sweet french fry and must be eaten immediately or else it will lose its pleasing texture.
                                                                                                         Pescado en Coco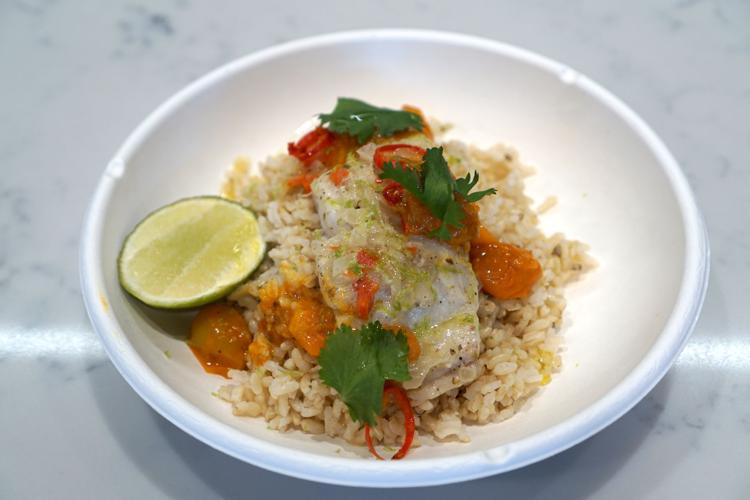 Pescado in Coco at Spanglish is a fresh local fish poached in coconut and served on Carolina Gold rice.
The best dish at Spanglish might just be this fish poached in coconut milk with peppers, onions, garlic and other spices. Prado gets his fish from Abundant Seafood, so sometimes it's grouper, other times it's tilefish or whatever they pull out of the local waters. The result is a delicate, flaky fish with subtle flavor that comes served on Carolina Gold rice.
                                                                                             Cuban Coffee and Pastelitos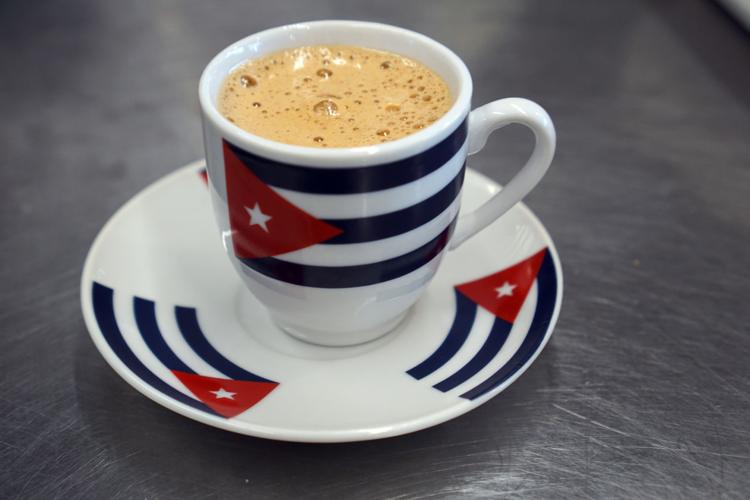 Cuban coffee, called cafecito, is basically an espresso with a whipped froth of sugar on top. This one is from Spanglish.
Cubans take their coffee seriously. It'd be impossible to find a Cuban restaurant that doesn't serve coffee. Lynda Prado says it's called cafecito and always comes with sugar and is served in a demitasse. "Without sugar it's just an espresso," points out her husband Tomas. Prado uses Cafe Bustelo and, in an espresso machine, whips the sugar into the coffee to create a sweet layer of foam on top. At Spanglish, she serves flan and sometimes a Key lime cheesecake along with other treats to go with the coffee. Mari Marzan at Sabor loves to make pastelitos and tends to use guava in her puff pastry. You can also sometimes find an amazing coconut cheesecake and rum cake at her truck. At Mama's food cart in the airport, the pastelitos sprinkled in powdered sugar and oozing fruit centers are a big hit with travelers looking for a sugar fix.